Happy Thanksgivukkah!
28 Nov, 2013 at 10:39 pm | Written by: Dotti Gramke
It is the start of the holiday season, and as our bellies are full of turkey, cranberry sauce and pie—here is a thought for you: ever heard of Thanksgivukkah? You read that right, it's not a typo, I promise.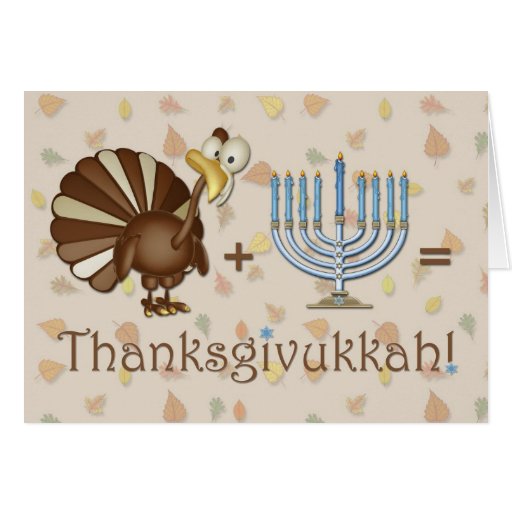 This year, the first full day of Hanukkah and Thanksgiving fall on the same day for the first time since 1888. In fact, this same event will not occur again for another 77,798 years!  Because Thanksgiving happens to be late this year, and Hanukkah is really early,  we have the birth of Thanksgivukkah! This is the point where I have to explain a bit: I grew up in a uniquely mixed household. The family on my mother's side is Jewish, and my Father's side is Catholic. Even though my mother became Catholic at a younger age, she taught myself and my two siblings about the Jewish religion—because it is part of our family culture. Hanukkah commemorates the victory of the Israelites over the Syrian Greek armies, and the miracle of restoring the menorah in the Temple. There was only one vial of oil found, enough for one day, yet that vial miraculously lasted for eight days. Growing up, we had a Hanukkah open house–sharing food, family and friendship. My parents still have that open house.
I am passing on the heritage to my children. We light our menorah, spin the driedel, and enjoy time as a family.
This year, the blogging world is alive with this unique holiday, because for many people it means they are celebrating two holidays where being thankful and celebrating family have come together. It is a unique way to share, and to grow. One blogger, The Cupcake Project, had the idea to gather a bunch of bloggers together and celebrate with unique recipes commemorating the holiday. In fact, I used this recipe from that post to make Pumpkin Challah. The house smelled wonderful, and I actually did a decent job braiding the bread.
And in the spirit of the holiday, I am sharing more family recipes with you. How about some Latkes (potato pancakes), and sufganiyot (deep-fried, jelly filled doughnuts)?
Potato Latkes
3 medium potatoes (1 lb.)
3 beaten eggs
¼ cup matzo meal (if you cannot find matzo meal, crush unsalted saltine crackers in a food processer until very fine)
¼ cup finely chopped or grated onion
¼ tsp. salt
¼ tsp. pepper
Oil for frying  (I use Crisco shortening)
Peel and coarsely shred the potatoes, you should have about 3 cups.  As you work, put shredded potatoes in cold water to prevent darkening.  Drain.  Rinse and drain again.  In a mixing bowl, stir together the potatoes, eggs, matzo meal, onion, salt, and pepper.  In a 12 in. skillet heat 2 tbs. oil over medium-high heat.  Drop 2 tbs. potato mixture (1/4 cup for larger latkes) into hot oil and flatten slightly with the back of the spoon.  Fry 2-3 minutes or  until the edges are crisp. Turn and fry 2-3 minutes more.  Drain on paper towels.  Repeat until all the mixture is used.  Serve with applesauce or powdered sugar to sprinkle on top.  Makes 12 large or 24 small latkes.
Sufganiyot, also known as, Israeli Donuts
1 cup water
2 tbsp. margarine
1 tbsp. grated lemon peel
1 cup all-purpose flour
4 eggs
Vegetable oil for deep frying
Powdered sugar for sprinkling (optional)
In large saucepan combine water, margarine, and lemon peel; bring to a boil.  Boil for 1 minute. Remove from heat.  Add flour and ½ tsp. salt; beat well.  Cook over medium heat, stirring constantly, till mixture forms a large ball.  Remove from heat.  Let stand 10 minutes to cool slightly.  Add eggs, one at a time, beating well after each addition.  Continue beating until smooth.  I use my mixer with a dough hook if necessary.
Drop from a rounded teaspoon, about 6 at a time, into deep hot oil (3650); fry 3-4 minutes or until golden.  Using a slotted spoon, remove from the oil; drain on paper towels.  Serve warm, sprinkle with powdered sugar. You can also fill the Sufganiyot with jelly. To do this use a long cake decorating tip in a decorating bag. Fill the decorating bag with jelly and push the tip gently into the side of the donut. Use gentle pressure to squeeze a small amount of filling into the donut. Makes about 48.
My Sufganiyot:
Interested in other Hanukkah happenings around the state? The Jewish Community Center in Omaha is hosting a Hanukkah extravaganza on December 1 from 4-5:30 p.m. Find more information here. Want more information on Hanukkah? Visit the Jewish Federation of Omaha.
*Thanksgivukkah card image courtesy of Zazzle.com*