You know those people who go overboard at Halloween and cover their yards in fake spider webs and plastic gravestones and skeleton hands coming out of the ground? Or the neighbors who find it totally cool to hang a giant tarantula on their front door and do full, head-to-toe, family-themed Halloween costumes?
Well, that's me—only not for Halloween. In fact, I'd be fine if everyone skipped right on over that creepy holiday and jumped right to December when the Christmas festivities are in full-swing. (But who am I kidding? I start decorating for Christmas and blasting Michael Buble's Christmas album the day after Thanksgiving. My family says it's too early. I don't care.)
So yes, I live for all things Christmas. Dragging out all of the holiday decorations—from unboxing the ornaments to the stringing of lights to the hanging of stockings—while "Jingle Bells" and "Silent Night" play in the background—there is nothing that brings me more joy.
The other part of this season I love is watching holiday movies with my family. The Grinch (all versions), Charlie Brown's Christmas, A Christmas Story, A Christmas Carol (again, multiple versions including the Mickey Mouse one obviously), The Nightmare Before Christmas, The Polar Express, and of course, an all-time fave—National Lampoon's Christmas Vacation will all get played via our TV or DVR or Netflix or Amazon Prime account at some point on or before December 25.
So, as a Christmas-obsessed person, when I spotted this gem of a lawn decoration online, I fell in love. I mean, who doesn't want their own NLCV inflatable RV?!
Especially since among all the holiday movies, the Cousin Eddie scene from this Clark Griswold special is probably the most hilarious and relatable.
OK, so maybe you've never had the unexpected surprise of a dilapidated RV on your front lawn, and maybe you've never had to witness said RV's toilet emptied in your street's sewage drain by a half-naked man in a bathrobe. And maybe you've never taken your family outside on Christmas to look at the night sky and reflect on the real meaning of Christmas, only to have your 100-year old grandpa light a cigar and cause a radioactive sewage explosion, accompanied by Grandma belting out The Star-Spangled Banner.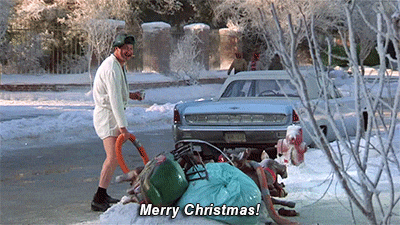 However, most families do have a Cousin Eddie-type relative who is wildly inappropriate and embarrassing—but you put up with him because it's Christmas. Even if he doesn't bring his dog called Snots and invite himself to stay for an entire month, we all can appreciate what this beautifully hideous inflatable RV signifies.
And that is this: there is always something beautiful at Christmastime, even if it's under a pile of RV sewage.
Okay, maybe that's a stretch. But this lawn decoration is hilarious nonetheless.
Because, like Eddie says, "It's a good-looking vehicle, ain't it? But don't go falling in love with it, cos we're taking it with us when we leave here next month."
If you're more partial to the Griswold-mobile, have no fear—you can buy a giant Christmas-tree-clad inflatable station wagon here.
Christmas is a time of joy, and a time for all of us to celebrate in ways that bring us joy. For some, it's baking dozens upon dozens of cookies. For others, it's covering their lawn with obnoxiously large inflatable lawn ornaments that cost $200. Either way, as long as Mariah Carey is playing "All I Want for Christmas" in the background, and you're eating your weight in sugar, tis the season.
Wait! Don't go without checking out these other hilarious Christmas Vacation goodies for the Griswold lovers in your life:
At Her View From Home, we love sharing all the things we're crazy about with YOU. Some of the links in this post are affiliate links, and we may receive a small commission if you decide to purchase from any of them. To check out other products we love, visit our Shop page HERE.