I was going to save this post to use in November but given the past weeks events I felt it was appropriate to share today:
Who do you admire and look up to? If you ask a child this question they might tell you a pro-athlete, a celebrity, or a relative. Chances are, it will be someone older than they are. From a young age, one of the people that I have admired most was my brother. This might not seem so unusual, except that he is almost four years younger than I am. The day I met him on November 12, 1996 was a very special day. I was a big sister for the first time and from that day I have had a lifelong friend and playmate.
If you are lucky enough to know Liam, then you know how special he is. Liam has this smile and warmth that radiates around him. He is charismatic, giving, selfless, faithful, and brilliant. I have never met anyone as strong-willed and determined as he is. As a nearly 18-year-old, he spends his time helping within the church, volunteering, working hard, and supporting his friends, family, and teammates.
Liam is a much better person- friend, sibling, teammate and student- than I could ever hope to be. He has made a difference in so many lives, mine included. Whenever I am home, I am always excited to spend time with my brother because he truly makes me want to be a better person.
My admiration for him was reified this past week.
This Friday my brother was competing in State Cross Country for the last time as a senior at Kearney Catholic. As he was approaching the finish line, another runner collapsed in front of him and was struggling to get back up. Liam stopped to help up this young man and then walked with him the remainder of the race to the finish line.
This is just one small example of the wonderful heart that Liam has. I am so proud that he is my brother and lifelong friend.
When thinking of whomever it is you admire or when you are encouraging your children to look up to someone, make sure it is with good reason. It is not success, money, fame, or age that matters; it is the heart, soul, and faith of a person that truly counts.
Thank you, Liam for being such a positive inspiration in my life. I am so incredibly proud of the wonderful young man that you have grown to be.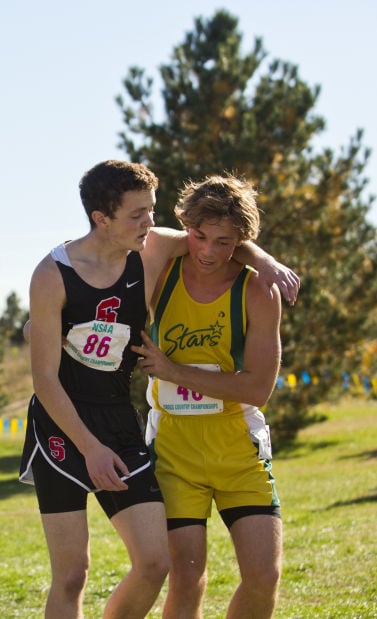 Photo credit: Lincoln Journal Star