When our children were eight and ten years old, my husband had a great-paying job as a computer programmer/engineer for a manufacturing company. Prior to this job, we were struggling financially. I remember watching a friend buy a pair of socks for her son and thinking how wonderful it would be to have enough money to buy new socks when your child needed them.
Then all of a sudden – the job! Wow! We could afford doors for the kitchen cabinets, a microwave. A boat! What luxury! The only problem was that for large portions of the year, my husband worked 7 days a week without a break, often 12 or more hours a day. His "day off "- Sunday – meant that he could go home at 4 p.m. in the afternoon instead of 7 p.m. or 8 p.m. or later. His boss, a good friend of ours, was working even longer hours, so it wasn't as if anyone were shirking. The job just required a lot of time – from everyone.
Then one day my husband received an offer from the local college to head their academic computing department. Forty hours a week – what a dream! The catch? His pay would be about half of what he had been earning. My husband and I didn't have to ponder long to decide that less work time would be better for him, his health, and our family, but we wanted to include our children in the decision. I really thought that they might choose the extra "stuff" that money could buy rather than more time with their daddy, but when we told them about their father's job option, they jumped up and down shouting, "More time with Dad!"
Okay, fast forward to Christmas. With the old job, we had spoiled our children with stacks of packages under the tree. With the new job, I was contemplating a pretty sparse Christmas morning. I explained the situation to our kids, and they didn't complain. My husband and I made sure to put the emphasis on giving, not getting, and that made Christmas sparkle for all of us. But still, I wanted my children to have a fun and exciting Christmas morning. A few prayers, a few conversations with friends and relatives, and suddenly the ideas began to flow. If you are having a tight year this Christmas, perhaps some of these ideas will work for you, too.
1. The featured photo above is a glass cider jug that belongs to our (now adult) daughter. That first year of belt-tightening, I bought cider in jugs during the fall. Then I saved the jugs, one for our daughter and one for our son. (Nowadays, you'll probably find that most cider is sold in plastic, but drop in at an antique store. You should be able to get a clear glass jug for just a dollar or two.) Then I went to the bank and bought four rolls of pennies, fifty cents per roll. I split open two rolls and poured one in each jug. The other rolls went into our children's Christmas stockings. Those glass jugs were nice big gifts under the tree, and, for years at Christmas, our children's stockings held another roll of pennies or of nickels or dimes. When our kids were teens they added their spare change to their jugs. Their grandparents contributed and so did my husband and I. A penny here, a quarter there. By the time our son and daughter graduated from high school and were facing all those college expenses, each of them had a jug full of more than two hundred dollars in change. Not bad for what started out as a fifty-cent Christmas gift.
2. My friend Patti gave me this idea. Buy your child a box of his favorite fancy cereal. You know, the kind that he begs for every time you go to the grocery store. You buy the cheap cereal for $1.99 a box. The expensive stuff comes in at $3.99 and stays on the store shelf, but a wrapped box of fancy cereal is a great gift, and how often do you pay a net cost of only $2 for an under-the-tree present?
3. Dress up fun! This idea is from my daughter. One year, she gave her nieces inexpensive scarves. They were long and billowy and perfect for dress-up. The girls played with them for hours – actually, for years! Fill a sturdy box with scarves, lengths of net fabric, costume jewelry, plastic beads, old hats and high-heeled shoes, and you have an exciting dress-up game just waiting to happen. (Be sure your children are old enough to play safely with these items, especially with scarves and necklaces.)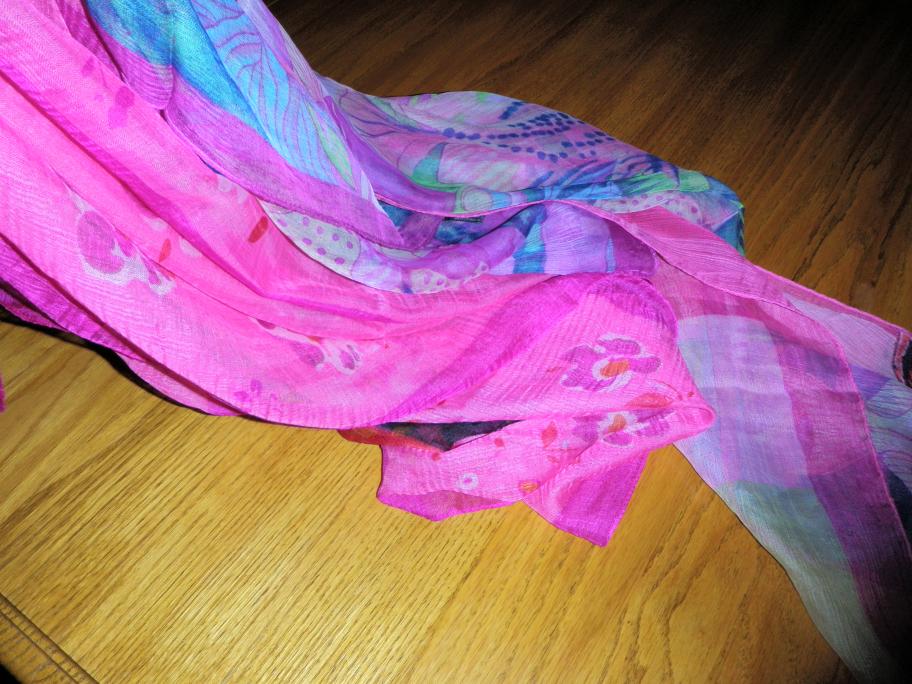 4. Most children love to create. Shop at discount stores to pick up colored paper, scissors, stickers, pipe cleaners. Then fill a shoe box for each child.
5. Photo albums. If you're like me and have loads of old photographs stored in boxes, pick out duplicates and those you don't mind parting with and give each child a bag of photos, an inexpensive album, glue sticks, scissors, stickers, ribbon. They'll have a ball.
6. One of the most fun gifts I ever received (and this is for older children) was a box of brand new makeup from my Aunt Jean: glittery eye shadow, nail polish, rouge, lipstick, eyebrow pencil. I was sure I looked gorgeous. You can pick up these items inexpensively at discount stores.
7. Kids love to unwrap gifts, but wrapping paper can be expensive. I used the comics from the newspapers, bright pages torn from old magazines, and cut up paper bags to wrap our gifts. I raided my yarn bucket to make bows. I also fashioned bows from string and strips of paper. Fun!
On this Thanksgiving week, when we all have so many reasons for gratitude – and Black Friday looms large, it's always good to stretch our souls by being thankful for less!
Please share your ideas and add to our "Creative Gifts" list!
[adrotate banner="82″]