Fall is my most favorite time of year, the weather gets cooler, the leaves change colors, it's football season, so many things to enjoy as the season changes. This fall has been really productive and creative for me and I'm loving it!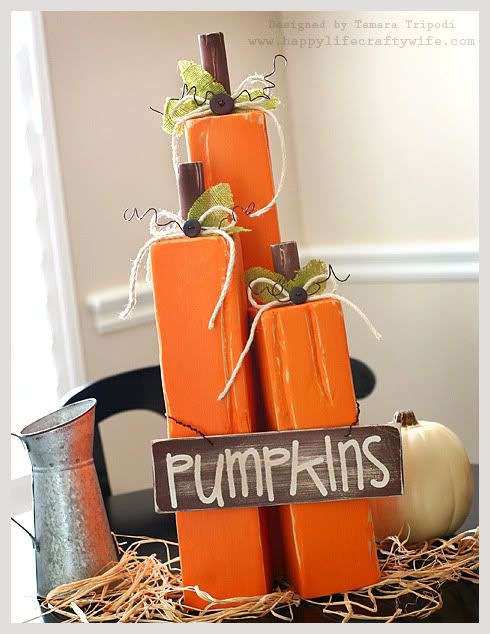 I got to spend a Saturday afternoon with some creative women, well, being creative! My neighbor found this idea on Pinterest to create pumpkins out of 4x4s and because she has a HUGE SAW she wanted to give it a try. So of course I was up for it!
See, look at that saw! We cut the 4x4s into three different sizes according to the directions on the project – 21″, 16″ and 12″. And the good news is you can get two sets out of one 4×4!
Then we got out the chisels and just kind of experimented with how to create ruts in the 4×4 to emanate the ridges in a pumpkin.
I found it easiest to use the pointy chisel and just kind of dig ruts along the soft spots in the wood. Another gal preferred the flat chisel and hit it with a hammer to help create the ruts.
Then we sanded down each piece making all the edges nice and smooth.
The Valspar spray paint is so wonderful, it took about thirty seconds to completely spray the entire block and it was dry within minutes! Be sure it's coated well, especially in the ruts.
Then we used my most favorite product, the Valspar Antiquing Glaze, to add some depth to the ruts as well as the entire "pumpkin".
Next we went on a little adventure in the field next to our house and chopped down some branches that had interesting texture to create the stem of the pumpkin.
After cutting them down to different sizes, we just hot glued them on to the top of the pumpkin. Looks at those ruts, don't they look so cute?!
To curly cue the black wire, we just wrapped it around a metal rod.
Then we cut out some leaf shapes from green canvas, added a jute bow and a black button and hot glued it on to the pumpkin.
So incredibly adorable!! And so many possibilities for adorning your pumpkins.
I seriously stare at them everyday!
Of course I went right home and got out my fall decor to update the mantle for the season.
Oh so adorable!
I do have to warn you, this is not a quick project, it probably took 2-3 hours and 75% of that time was spent digging out those ruts, they were tough!
Happy Fall!
Smiles!
Megan